Gus Bradley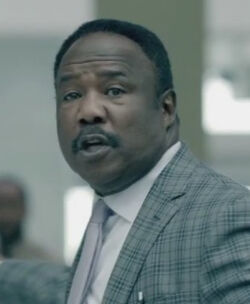 Ethnicity
African American
Gus Bradley is one of the main characters and one of the two main human antagonists in The Mist television show, played by Isiah Whitlock, Jr.
Biography
Edit
Gus is manager of the local mall in Bridgeville, Maine, that is full of trapped townsfolk when the Mist arrives. Gus struggles to keep order among the new society that emerges.
As the story progresses, he slowly starts losing hold of the mall which descends it into chaos. He resulted in murder and stealing in order to maintain his role of leader at the mall.
When the Mist flooded the Mall, he locked himself in the office, while others desperately banged on his door.
Appearances:
Edit
TBA