Jay Heisel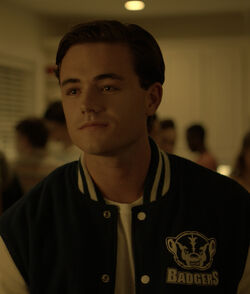 Ethnicity
Australian America
Jay Heisel is one of the main characters in The Mist television show, played by Luke Cosgrove. A popular high school footballer and the son of the local sheriff, Connor Heisel, Jay is accused of a heinous crime. When the Mist arrives, he is trapped in the local mall.
He is accused of raping Alex, despite the true identity of the rapist being Adrian.
After he and the others are kicked out over a disagreement with the mall, he dies when he saves Alex from a suffocating tendril of mist, which grabs him instead. Alex's family does not allow her to save him. Kevin then informs them that he was innocent.
Biography
Edit
TBA
When Jay saves Alex from the suffocating mist vortex, Alex escapes but Jay is then suffocated by the mist vortex.
Appearances:
Edit
TBA