Kimi Lucero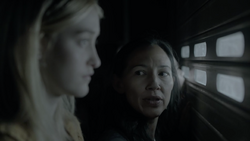 Ethnicity
Caucasian-American
Kimi Lucero
is a one of the recurring characters in 
The Mist
television show, played by Irene Bedard.
Cause of Death: Kimi was killed by Kyle after trying to prevent Kevin Copeland and his family from being evicted from the mall.
Kimi's lifeless corpse fell into the water after Kyle shot her through the chest.
Ad blocker interference detected!
Wikia is a free-to-use site that makes money from advertising. We have a modified experience for viewers using ad blockers

Wikia is not accessible if you've made further modifications. Remove the custom ad blocker rule(s) and the page will load as expected.