Link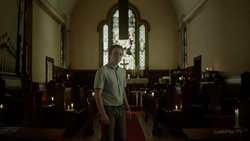 Ethnicity
Caucasian-American
Relatives
No known relatives
Link
is one of recurring characters in
The Mist
Television show, Played by Dylan Authors.
Link attacks Mrs. Raven in an attempt to force her to repent to God's will. Nathalie breaks a window, letting the mist inside, and locks Link in the room. Link calls for help, but to no avail, and dies. His remains are seen after.
Ad blocker interference detected!
Wikia is a free-to-use site that makes money from advertising. We have a modified experience for viewers using ad blockers

Wikia is not accessible if you've made further modifications. Remove the custom ad blocker rule(s) and the page will load as expected.