Shelley DeWitt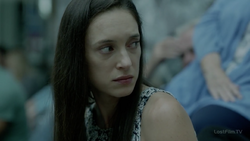 Ethnicity
Caucasian-American
Shelley Dewitt
is a major recurring character in Season 1 of
The Mist
television show. Played by Alexandra Ordolis and was one of the members trapped in the mall.
Biograpy
Edit
Shelley Dewitt and her daughter quickly befriend Alex and Eve in the mall, however when an incident occurs with the mist faulting her daughter, Lila's death, she quickly opposes Alex and Eve as Alex survived the Mist. Shelley becomes paranoid and convinces the mall survivors that Alex and Eve are behind the Mist, however this leads to her demise as she is smashed in the head by a candle stick and then choked by Gus as she was too dangerous to the group.
TBA
Ad blocker interference detected!
Wikia is a free-to-use site that makes money from advertising. We have a modified experience for viewers using ad blockers

Wikia is not accessible if you've made further modifications. Remove the custom ad blocker rule(s) and the page will load as expected.