Tom Smalley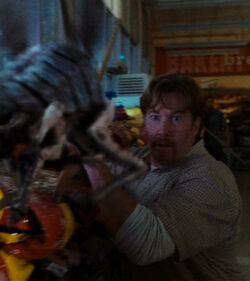 Age
Unspecified (Early 30s to Early 40s)
Ethnicity
Caucasian-American
Relatives
No known relatives
Tom Smalley was killed by a Pterobuzzard.
Biography
Edit
Tom Smalley is one of the patrons trapped inside the Grocery Store when the Mist appears and engulfs the town outside.
During the first night of the phenomenon, when a Pterobuzzard squeezes through a broken display window and pushes its way through the barricade of fertilizer bags, one of the bags lands hard on Tom Smalley's head, knocking him out and causing him to catch his jaw.
The Pterobuzzard proceeds to devour the flesh on Tom's upper neck, killing him in his unconsciousness.
During the first night of the phenomenon, while Tom Smalley is distracted cutting a Scorpion-Fly to death with a fire axe, a Pterobuzzard lands on top of him, its weight pinning him down, and tears a chunk of flesh from the back of Tom's Smalley's neck; killing him.
Ad blocker interference detected!
Wikia is a free-to-use site that makes money from advertising. We have a modified experience for viewers using ad blockers

Wikia is not accessible if you've made further modifications. Remove the custom ad blocker rule(s) and the page will load as expected.