Wanda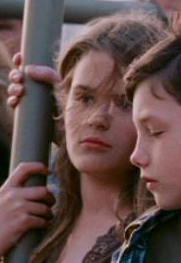 Actor
Abigail Breslin(UK) AnnaSophia Robb(US)
Ethnicity
Caucasian-American
Status
Unknown (novella)
Alive (film)
Wanda is the eight-year-old daughter of an unnamed mother, and the older sister of Victor. She is sometimes left by her mother to look after her brother, but tends to forget or get bored. While her fate is unknown in the novella, in the film, Wanda, Victor and their mother were seen in a truck full of survivors at the end.
Ad blocker interference detected!
Wikia is a free-to-use site that makes money from advertising. We have a modified experience for viewers using ad blockers

Wikia is not accessible if you've made further modifications. Remove the custom ad blocker rule(s) and the page will load as expected.